Thursday 25th December 2014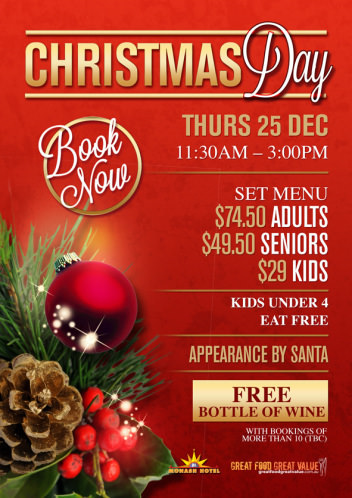 Book Now For Christmas Day Lunch
Buy Tickets Online Now
Come and celebrate Christmas Day here at the Monash Hotel. We have a delicious Christmas day lunch planned so you can sit back, relax and enjoy time with family and friends.
Plus for the kids, Santa will be paying us a visit!
Free bottle of wine for bookings with 10 or more people. Book now!
Conditions apply. Bookings are essential. See staff for details.
$74.50 Adults
$49.50 Seniors
$29 Kids
Kids under 4 years eat FREE
Tickets available at venue
Booking fee may apply
11.30am - 3pm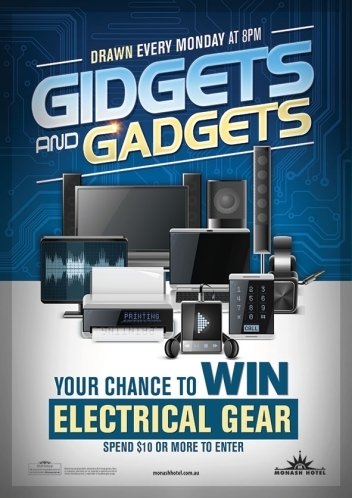 Gidgets and Gadgets
Spend $10 and get an entry form for our Gidgets and Gadgets Promotion. You can win electrical gear!
Drawn every Monday night at 8pm.
Conditions apply. See staff for details.
18+ Only - Photo ID required
1st and 3rd Tuesday of every month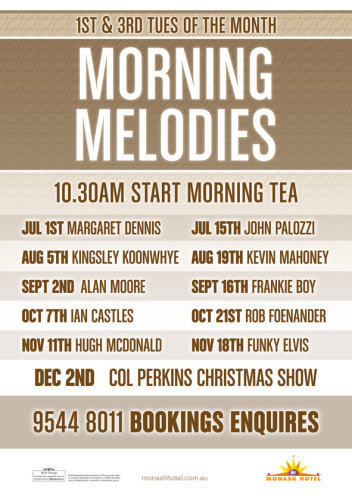 Morning Melodies
1st and 3rd Tuesday of every Month
Join us on the first and third Tuesday of every month for Morning Melodies.
July 1st - Margaret Dennis
July 15th - John Palozzi
Aug 5th - Kingsley Koonwhye
Aug 19th - Kevin Mahoney
Sept 2nd - Alan Moore
Sept 16th - Frankie Boy
Oct 7th - Ian Castles
Oct 21st - Rob Foenander
Nov 11th - Hugh McDonald
Nov 18th - Funky Elvis
Dec 2nd - Col Perkins Christmas Show
$13 for lunch and show. Bookings are essential.
Conditions apply, bookings essential.
$13 for lunch and show
10:30am start
Every Friday Between 4 and 7pm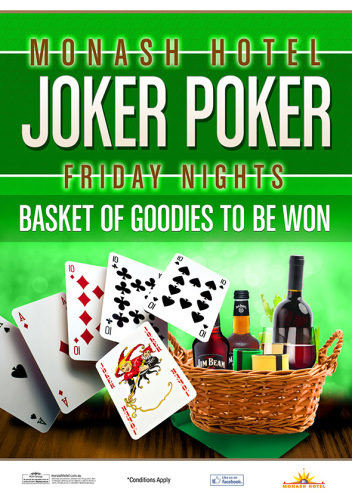 Friday Joker Poker!
On Fridays we're more than generous at the pub. You might get one in three chances to win a basket of goodies for the weekend. All you have to do is find the joker.
Think of the possibilities.
If your ticket's drawn first you'll instantly win a meat tray, so you're not leaving empty handed.
At the end of the day if no one wins, we'll increase the number of slabs for the following week.
So drop down between 4pm - 7pm and try your luck!
You might turn the Joker over!
Conditions apply. Management reserves all rights. Drink responsibly.
18+ Only - Photo ID required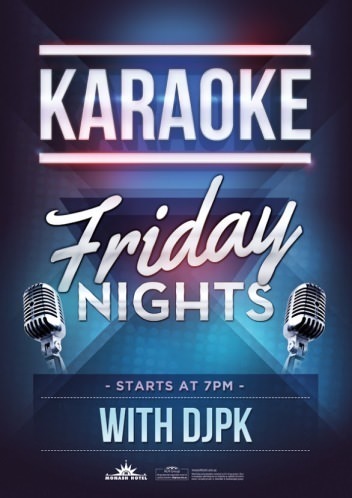 Karaoke Friday Nights
Hosted by DJ PK come and enjoy Karaoke here at the Monash Hotel.
Every Friday night from 7pm come down and sing the night away to your favorite tunes! Plus we have great drink specials. Don't miss the fun!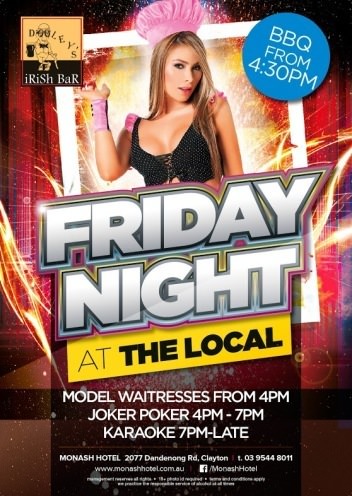 Friday Night Entertainment
Come down to Dooley's Irish Bar on Friday arvo's for some awesome deals.
Model Waitress from 4pm
Free BBQ form 4.30pm
Joker Poker from 4.30pm
Then finish off the night with karaoke from 7pm hosted by DJ PK!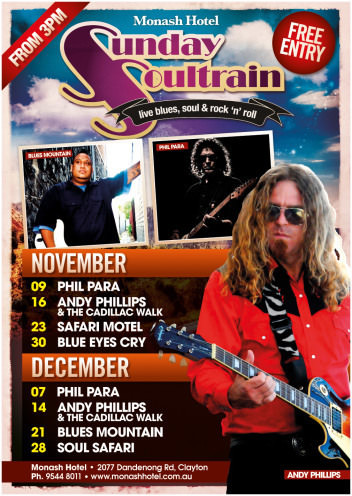 Sunday Soultrain
Monash Hotel presents SUNDAY SOULTRAIN
Featuring live Blues, Soul & Rock n' Roll!!
Performing live:
Nov 9th – PHIL PARA
Nov 16th – ANDY PHILLIPS & THE CADILLAC WALK
Nov 23rd – SAFARI MOTEL
Nov 30th – BLUE EYES CRY Dec 7th - PHIL PARA
Dec 14th - ANDY PHILLIPS & THE CADILLAC WALK
Dec 21st - BLUES MOUNTAIN
Dec 28th - SOUL SAFARI
This is a FREE event
Doors Open from 3pm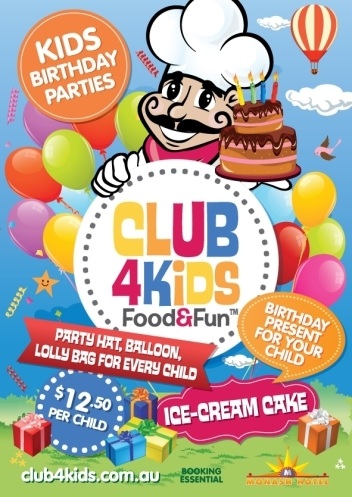 Hey Kids ... It's Party Time!
Have your party with us! Only $12.50 per child.
Booking essential – Monday to Sunday – 11am to 12.30pm or 2pm – 3.30pm.
Also available are Hot and Cold platters for Parents.
Our platters include:
Hot Platter $75.00
Sandwich Platter $55.00
Each platter serves between 8 to 12 people.
Platters must be pre-ordered as each platter is freshly made on the day of the party.
Any special requests are welcome, please just let us know what your requirements are upon booking so that we can provide them.
Available lunch & dinner, every day, for a limited time & while stocks last.
Further conditions may apply.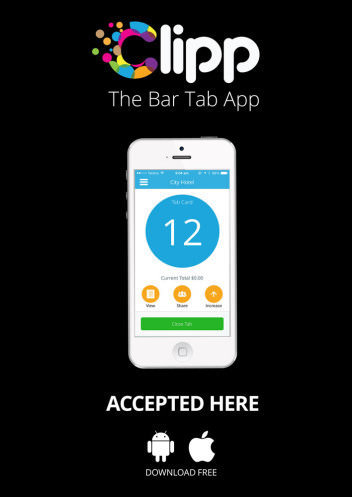 Clipp the Bar Tab App is Now Here
Clipp the Bar Tab App allows you to pay for food and drinks directly from your smartphone.
Simply download the app and connect a credit card to your account.
Set your tab limit and and flash your phone when placing your order.
View all your transactions in real time and when you're ready to leave, simply close the tab from your phone.
Come and give it a go!
See staff for details and conditions.
Available every day for a limited time.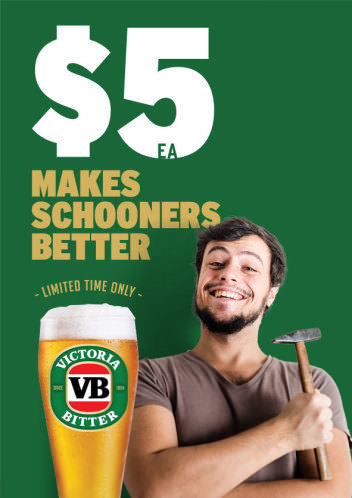 All Day Every Day VB Special
All day every day $5 VB Schooners! Pop in with your mates to enjoy this limited time only special.
Makes schooners better!
Conditions may apply. Available at participating VIC venues only. Enjoy responsibly.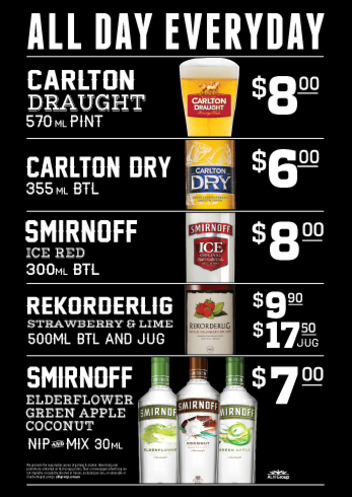 Every Day Drink Specials At The Bar
Great drink specials currently available across the bar:
Carlton Draught - $8.00 (570ml pint)
Carlton Dry - $6.00 (355ml bottle)
Smirnoff Ice Red - $8.00 (300ml bottle)
Smirnoff Elderflower, Green Apple, Coconut - $7.00 (30ml nip & mix)
Rekorderlig Strawberry & Lime - $9.90 (500ml bottle), $17.50 (jug)
Conditions may apply. Enjoy responsibly.