Thursday 25th December 2014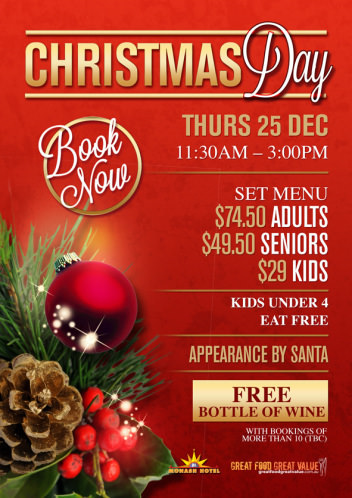 Book Now For Christmas Day Lunch
Come and celebrate Christmas Day here at the Monash Hotel. We have a delicious Christmas day lunch planned so you can sit back, relax and enjoy time with family and friends.
Plus for the kids, Santa will be paying us a visit!
Free bottle of wine for bookings with 10 or more people. Book now!
Conditions apply. Bookings are essential. See staff for details.
$74.50 Adults
$49.50 Seniors
$29 Kids
Kids under 4 years eat FREE
Tickets available at venue
Booking fee may apply
11.30am - 3pm
Every Friday Between 4 and 7pm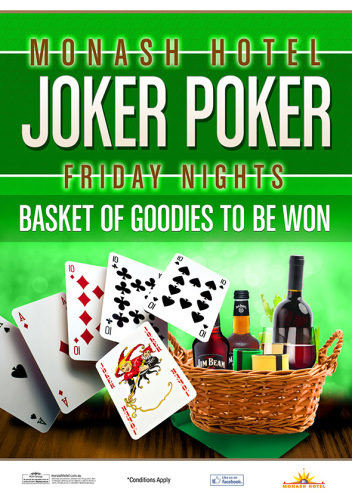 Friday Joker Poker!
On Fridays we're more than generous at the pub. You might get one in three chances to win a basket of goodies for the weekend. All you have to do is find the joker.
Think of the possibilities.
If your ticket's drawn first you'll instantly win a meat tray, so you're not leaving empty handed.
At the end of the day if no one wins, we'll increase the number of slabs for the following week.
So drop down between 4pm - 7pm and try your luck!
You might turn the Joker over!
Conditions apply. Management reserves all rights. Drink responsibly.
18+ Only - Photo ID required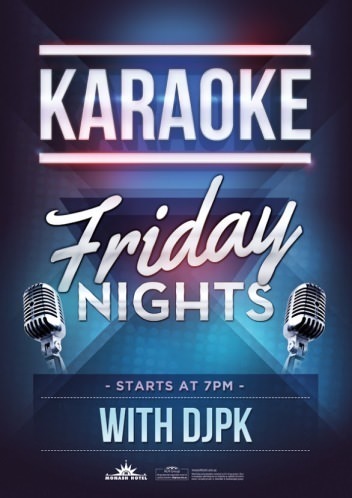 Karaoke Friday Nights
Hosted by DJ PK come and enjoy Karaoke here at the Monash Hotel.
Every Friday night from 7pm come down and sing the night away to your favorite tunes! Plus we have great drink specials. Don't miss the fun!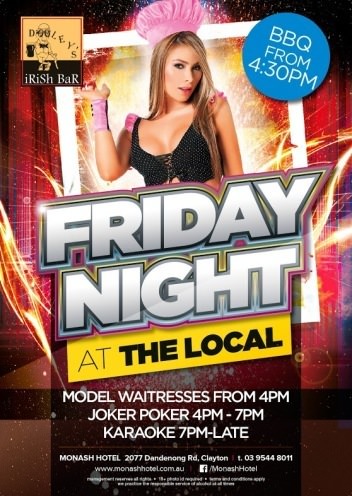 Friday Night Entertainment
Come down to Dooley's Irish Bar on Friday arvo's for some awesome deals.
Model Waitress from 4pm
Free BBQ form 4.30pm
Joker Poker from 4.30pm
Then finish off the night with karaoke from 7pm hosted by DJ PK!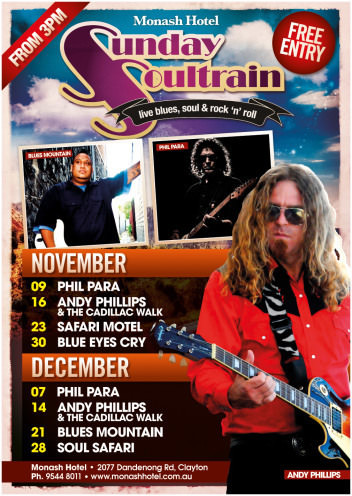 Sunday Soultrain
Monash Hotel presents SUNDAY SOULTRAIN
Featuring live Blues, Soul & Rock n' Roll!!
Performing live:
Nov 9th – PHIL PARA
Nov 16th – ANDY PHILLIPS & THE CADILLAC WALK
Nov 23rd – SAFARI MOTEL
Nov 30th – BLUE EYES CRY Dec 7th - PHIL PARA
Dec 14th - ANDY PHILLIPS & THE CADILLAC WALK
Dec 21st - BLUES MOUNTAIN
Dec 28th - SOUL SAFARI
This is a FREE event
Doors Open from 3pm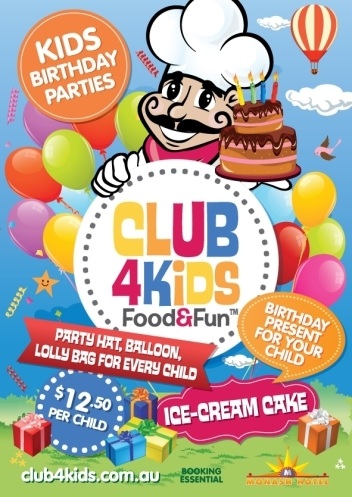 Hey Kids ... It's Party Time!
Have your party with us! Only $12.50 per child.
Booking essential – Monday to Sunday – 11am to 12.30pm or 2pm – 3.30pm.
Also available are Hot and Cold platters for Parents.
Our platters include:
Hot Platter $75.00
Sandwich Platter $55.00
Each platter serves between 8 to 12 people.
Platters must be pre-ordered as each platter is freshly made on the day of the party.
Any special requests are welcome, please just let us know what your requirements are upon booking so that we can provide them.
Available lunch & dinner, every day, for a limited time & while stocks last.
Further conditions may apply.
3rd Tuesday of every month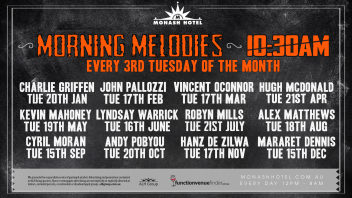 Morning Melodies
On the 3rd Tuesday of every Month
Join us on the third Tuesday of every month for Morning Melodies.
Jan 20th - Charlie Griffen
Feb 17th - John Palozzi
Mar 17th - Vincent O'Connor
Apr 21st Hugh McDonald
May 19th - Kevin Mahoney
Jun 16th - Lyndsay Warrick
Jul 21st - Robyn Mills
Aug 18th - Alex Matthews
Sep 15th - Cyril Moran
Oct 20th - Andy Pobyou
Nov 17th - Hanz De Zilwa
Dec 15th- Margaret Dennis
$13 for lunch and show. Bookings are essential.
Conditions apply. Bookings essential. See staff for details.
$13 pp
10:30am start form morning tea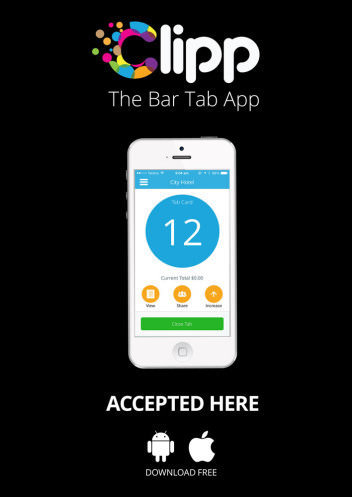 Clipp the Bar Tab App is Now Here
Clipp the Bar Tab App allows you to pay for food and drinks directly from your smartphone.
Simply download the app and connect a credit card to your account.
Set your tab limit and and flash your phone when placing your order.
View all your transactions in real time and when you're ready to leave, simply close the tab from your phone.
Come and give it a go!
See staff for details and conditions.
Available every day for a limited time.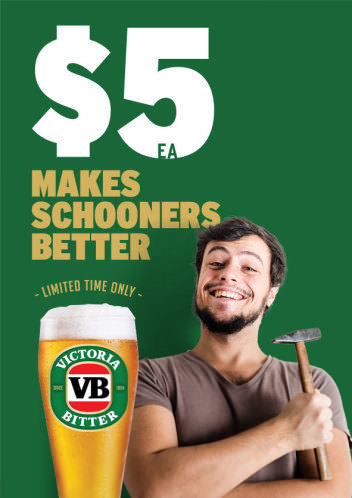 All Day Every Day VB Special
All day every day $5 VB Schooners! Pop in with your mates to enjoy this limited time only special.
Makes schooners better!
Conditions may apply. Available at participating VIC venues only. Enjoy responsibly.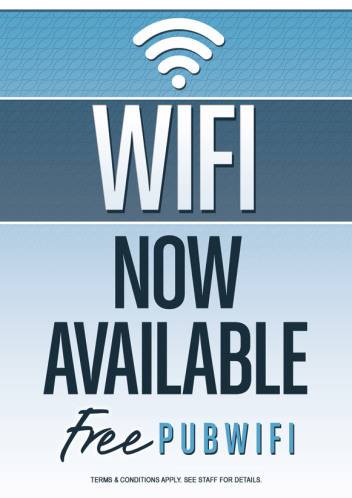 Free Pub WiFi
Whilst enjoying your stay with us, why not make use of our Free Pub WIFI?
From the comfort of your room and throughout the venue, read and send email, check in to Facebook or browse the web.
Terms and conditions apply. Please ask a staff member for details.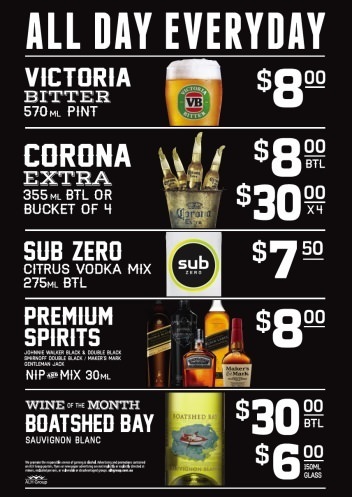 Every Day Drink Specials At The Bar
Great drink specials currently available across the bar:
Victoria Bitter - $8.00 (570ml pint)
Corona Extra - $8.00 (355ml bottle), $30.00 (bucket of 4 bottles)
Sub Zero Citrus Vodka Mix - $7.50 (275ml bottle)
Premium Spirits: Johnnie Walker Black & Double Black / Smirnoff Double Black / Makers Mark / Gentleman Jack - $8.00 (30ml nip & mix)
Wine of the Month: Boatshed Bay Sauvignon Blanc - $6.00 (150ml glass), $30.00 (bottle)
Conditions may apply. Enjoy responsibly.
Sparkling of the Month
Every day drink specials at the bar.
Enjoy our Sparkling of the Month currently available across the bar.
Sparkling of the Month:
Taylors Estate Sparkling Pinot Noir Chardonnay NV - $7.50 (150ml glass), $35.00 (bottle)
Displays clean citrus/lemon fragrances along with floral blossom, toffee almonds, creme brulee and underlying hints of vanilla and rose water.
Conditions may apply. Enjoy responsibly.